If you're dreaming of a vintage style wedding but need some floral inspiration then this post is for you!
The term vintage covers a whole range of themes, colours and decor options. Originality and individuality are so important when it comes to planning your wedding so you don't have to be a slave to a specific theme but defining the style you're after is a good first step, even if it ends up being a combination of different styles. From there you can begin to look at floral designs which fit your wedding style and personality.
I love doing flowers for vintage weddings and over the last few years I've worked with many couples who've put their stamp on the vintage theme with some fabulous flowers and styling so I've gathered some images from these wonderful weddings and loosely categorised them into some of the more popular styles.
Rustic Vintage – this style is perfectly suited to relaxed weddings in barns, tipi's or outdoors and take inspiration from nature and traditional country objects like vintage milk churns, watering cans, apple crates and wooden ladders. Use a mix of seasonal flowers together with lots of foliage, twigs and things like seed heads and feathers for a natural, rustic look. Bouquets and buttonholes can be bound with hessian or twine and items like log slices or bark can also be incorporated into table decorations.
You can find more inspiration for rustic vintage wedding flowers on my Pinterest board here
Vintage Tea Party – summer weddings in marquees and village halls are ideal for afternoon tea with vintage china, lace tablecloths, lots of cakes and strings of bunting. Flowers in pretty pastel colours work perfectly with this style and can be placed in tea cups, teapots, jugs, vintage tea caddies or even on vintage china cake stands. For something a little different think about hanging flowers in tea cups for a backdrop to your top table, around your table plan or create a dessert table to die for using a vintage chest or dressing table and fill the drawers with flowers.
There's more ideas for vintage tea party flowers on my Pinterest board here
Vintage Glamour – if you're going for the glamour and sparkle of a 1920's or 30's inspired wedding you'll be wanting flowers with the wow-factor. Tall arrangements on candelabras or glass vases are the ideal option for a statement table centre, full of luxury blooms like roses and hydrangeas, and even tropical flowers like orchids. White, ivory or the palest pink flowers work with the golds and blacks often seen in Gatsby inspired wedding decor, along with ostrich feathers, sequins, glitter and strings of pearls.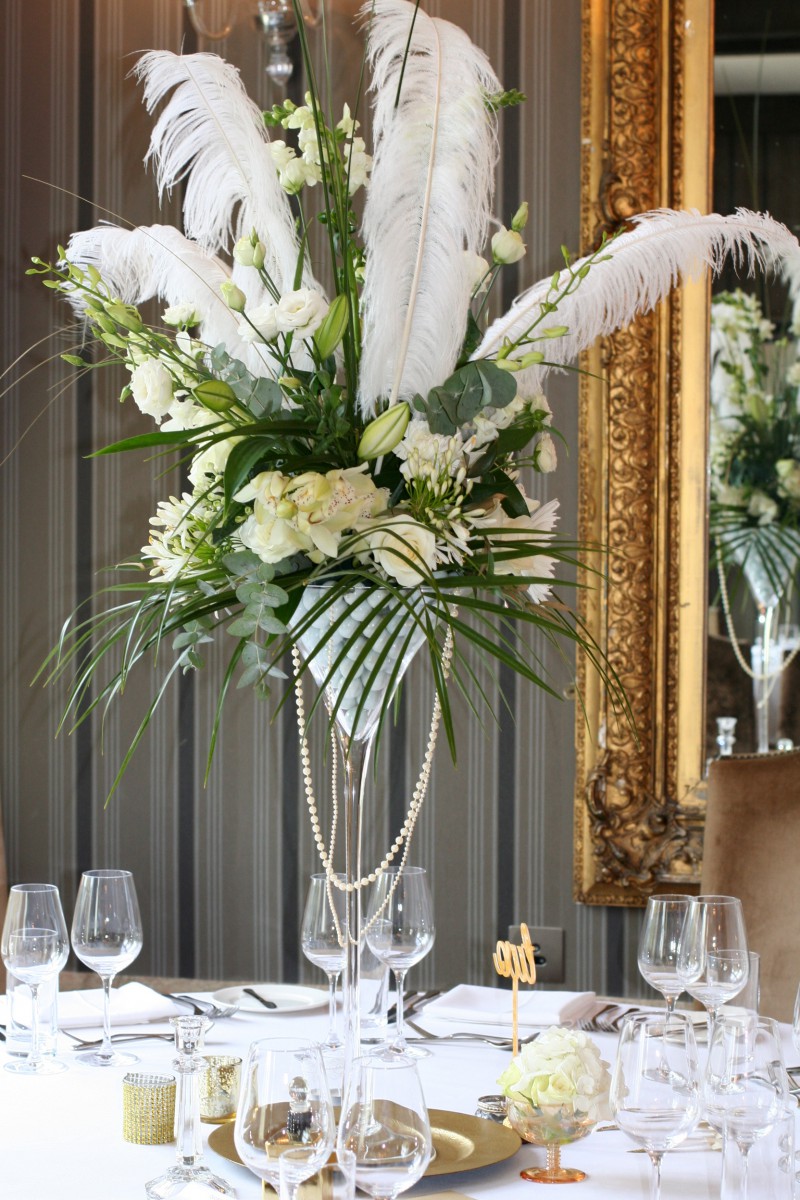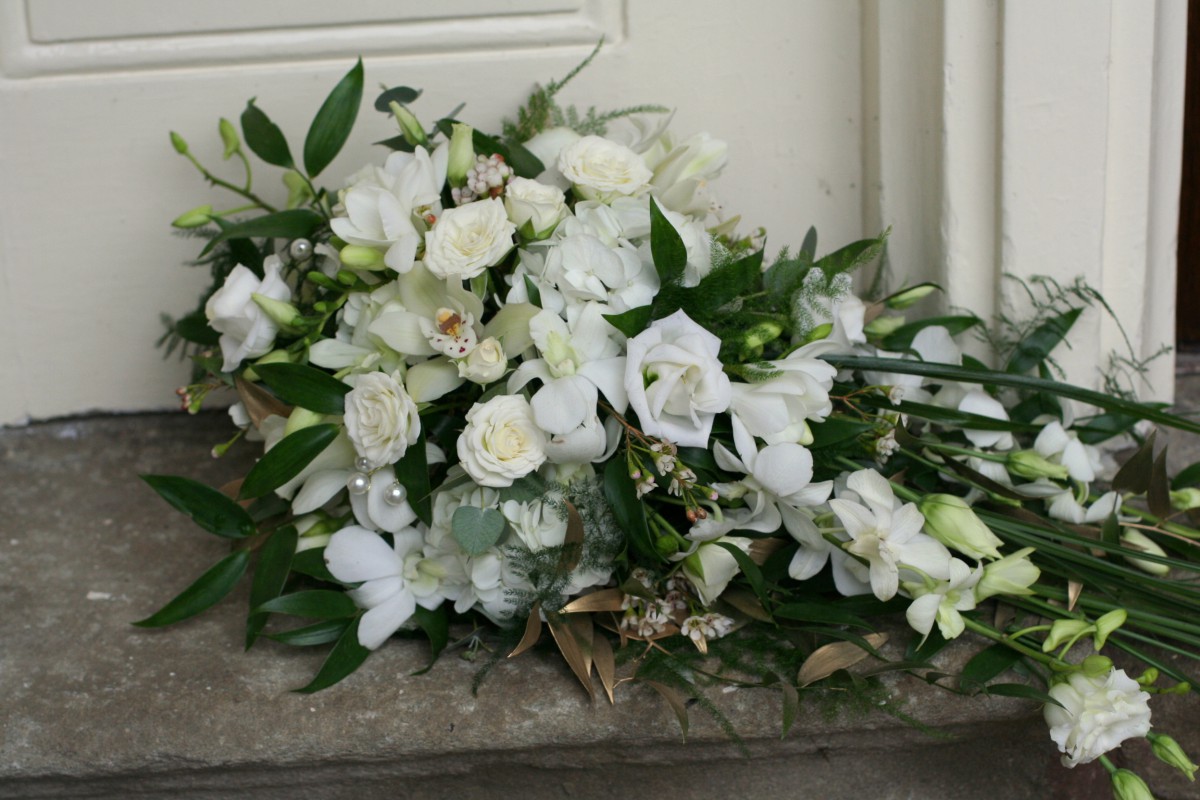 You can see more ideas for Gatsby inspired weddings on my Pinterest board here
Retro Vintage – this loosely terms vintage styles from the 1950's, 60's and 70's with fun, quirky rock n roll styles. To me the 50's are summed up with bright, bold flowers and decor in oranges, yellows, corals and cerise pinks. A bright bouquet teamed with a tea-length dress and coloured heels is perfect for a 50's inspired bride with colourful buttonholes for the boys. Venue decorations could include coloured glass vases filled with flowers or you could cover tins with bright vintage labels.
There are more retro vintage ideas on my Pinterest board here
Boho Vintage – the vintage boho style is a softer, more romantic look, still colourful but with paler pastel tones. The just-picked 'wild flower' look is especially suited to this style; think daisies, ammi, cornflowers in a loose, natural bouquet with a flowing lace dress and a flower-crown – the essential accessory for the boho bride! A tipi or yurt is the ideal venue for this style of wedding, use lots of vintage bottles filled with flowers along trestle tables and hanging flowers creating a festival vibe.
There is more inspiration for your boho vintage wedding over on my Pinterest board here
So I hope you've got some inspiration for your own wedding flowers, you can find more examples of vintage style weddings over on my blog by clicking here.
If you're searching for other vintage-inspired supplier then have a look at The Vintage Wedding Fayre Facebook page for the next event near you, you'll be sure to find some fabulous folks to really make your wedding wonderful.
Jenny x