It's been a long while since I posted a blog but 'tis the season for spreading some festive cheer so here I am with something a little different from the usual wedding posts; there will be lots of those to come in the New Year, I promise! I love collaborating on styled shoots, getting creative and bringing ideas to life so when Tiffany from Oscar's Bar Hire asked if I'd like to do a wintery photo-shoot with her mobile horsebox bar my head was full of ideas for fun, festive styling and some Christmas cocktails too! We asked Hannah Buckland Photography to capture our ideas and got creative one chilly December morning at the farm.
Harriet the Horsebox is a gorgeous grey with copper interior so I took inspiration from her decor and used copper detailing throughout the decor with lanterns, votives and baubles. As you may know I'm not a big fan of bling but a hint of metallic warmth from the copper is right up my street and I toned it all with a very natural, seasonal look for the florals and lots of wintery, rustic details like pine cones and birch bark stars.
I dressed Harriet up with an extra-large wreath, full of seasonal foliage, pink pepper berries, textural thistles and twigs and pheasant feathers and attached a wild and natural garland on the canopy above the bar. I got creative with copper on the Christmas tree, and stacked rustic wooden crates to create a feature with lanterns and presents. A pair of my mums of ice skates, cosy woollen blankets and a fur wrapped bottle of fizz completed the wintery feel and we got cracking on the Christmas cocktails (not literally at 10 in the morning I might add!)
As it's the season of goodwill and time for sharing good times with friends and family we thought we'd share our recipes for some delicious December drinks for the festive season. Whether you like a cheeky little fizz or a mug of something mulled we've put together some ideas below to add a little warmth and sparkle to your Christmas.
Oscar's Hibiscus Champagne Cocktail – this pink bubbly number is such a pretty addition to any Christmas drinks party and is super easy to make. Hibiscus flowers are available from supermarkets or you can find them on Amazon! Place a hibiscus flower and 1 tsp of the syrup into a glass, add a shot of Citrus flavoured gin – Tiffany recommends Chase Seville Orange or Pink Grapefruit Gin- and then top up with chilled Prosecco or champagne.
Jen's Sloe Gin – this one needs a bit of pre-planning to be ready for Christmas, so as I'm out in the countryside walking the dog in October I look out for Blackthorn bushes laden with blue-grey berries and collect a few handfuls up. (If you only find a few on each outing you can freeze them until you have enough to make the gin) Once you've gathered around 450g of sloes you'll need to prick the skins with a clean needle and put into a sterilised jar ( a big Kilner jar works well) add in 225g of caster sugar and pour in 1 litre of gin, use a reasonable quality gin – cheap nasty gin will only make cheap nasty sloe gin! Seal tightly and shake well, store in a dark cupboard and shake the contents a few times a week for the first week then once a week for the next 2 months. Strain the gin through a cloth or coffee filter into a sterilised bottle. Sloe gin is good neat, over ice; added to your own Christmas cocktails, in champagne for a Sloe Royale or into the mulled wine recipe above for an added kick! (If time gets the better of you and pre-planning isn't happening then Oscar's Bar Hire recommend Chase Sloe Gin!)
Oscar's Mulled Wine – warm a bottle of good red wine with a couple of cinnamon sticks, 3 or 4 star anise, zest and juice of two clementine's and 4 tbsp of sugar in a pan, cook on a low heat for  ten minutes but do not boil, take off the heat and allow to cool and infuse for around 30 minutes. To serve, reheat gently, pour into mugs or heatproof glasses and garnish with a slice of clementine. Double or even treble the recipe to warm a crowd of friends and family over the festive season.
Hannah's Hot Chocolate with Amaretto – photographer Hannah is a self-confessed chocoholic and this is the perfect winter warmer for when you've come in from a cold day. Gently warm a mug of milk in a pan and stir in 2 tbsp of milk chocolate chips (or 1 milk, 1 dark if you like) whisking to combine and melt the chocolate chips, simmer for a minute or two until it starts to thicken and remove from the heat. Whisk in a shot of Amaretto and then pour into a mug and top with mini marshmallows and a chocolate flake (if you're feeling really decadent then you can add whipped cream before the marshmallows)
Spruce-infused Florists Fizz – spruce you say? JennyFleur's gone mad! But bear with me on this one, I'm surrounded by spruce and pine at this time of the year whilst making wreaths and it's worth adding to your list of Christmas cocktails! First make your spruce syrup – wash 3 or 4 sprigs of spruce to get approx  ½ cup of finely chopped fresh spruce needles* add to a pan with 1 cup water and 1 cup caster sugar and bring to the boil to dissolve the sugar then remove from the heat, cover and leave to steep for at least 2 hours or overnight. Strain through a cloth or coffee filter into a sterilised bottle and store in the fridge for up to one month.  To make the Christmas Fizz pour a shot of spruce syrup into a cocktail glass, add a shot of gin and top up with a nice fizz. Garnish with a sprig of pine and a few cranberries.
*Be careful to ensure you use an edible pine tree, some varieties of tree can be poisonous – Spruce or Douglas Fir are best.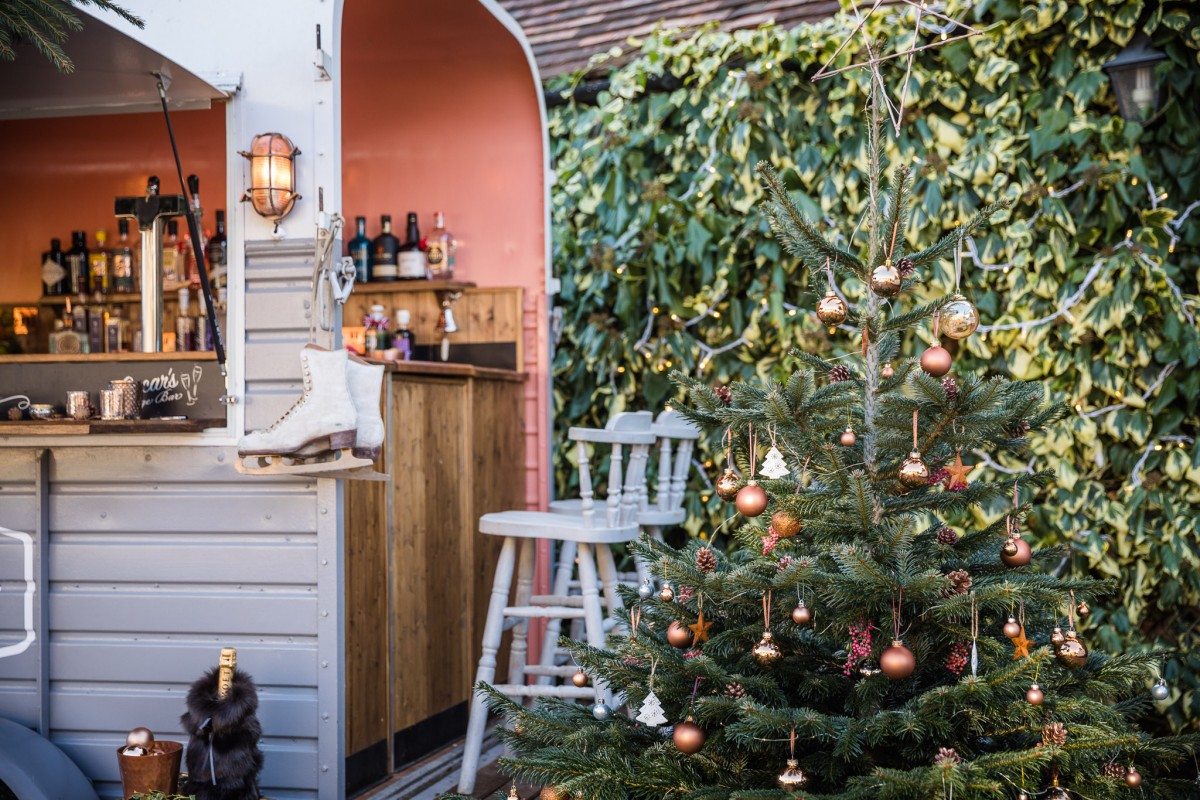 We hope you enjoy getting creative with your festive drinks this season, eat, drink and be merry with all your friends and family! To find out more about hiring Harriet the Horsebox bar for your wedding or event take a look at Oscar's Bar Hire website here, summer or winter she's a fab addition to any party!
Hannah Buckland Photography captured these great shots of my florals, styling and drinks and is available for weddings, events, family and commercial photography – and I highly recommend her, watch this space for more photos from weddings she's photographed with my flowers (you can see one from the Spring here)and more styled shoots coming soon!
That just leave me time to wish you all a very Merry Christmas and a Happy New Year, and say a big thank you to all my clients, past, present and future and the lovely suppliers I get to work with for being totally awesome and enabling me to do a job I love – I'll raise a Christmas Cocktail to you all! xXx