It's said that the sea is good for the soul, providing inspiration and a connection to the natural world with many people drawn to the romance of having a coastal wedding. From the sheltered beaches on the Roseland to the rugged, windswept cliffs of North Cornwall it's easy to understand the lure of the ocean and Cornish coast.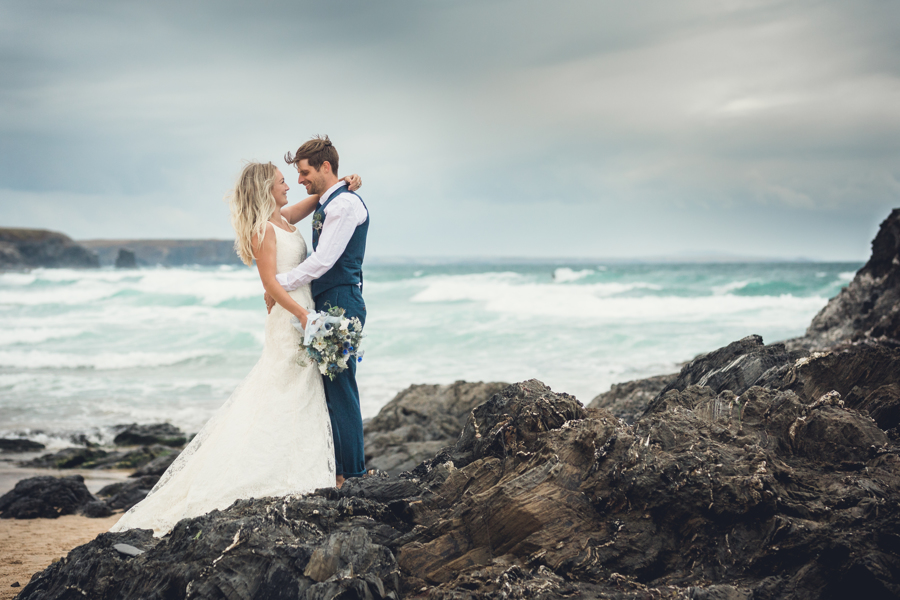 I may now live in the landlocked county of Gloucestershire but growing up in Cornwall has given me strong ties to this beautiful county with it's stunning coastline and I get back to the homeland to be inspired as often as I can. Photographer Hannah Buckland also grew up by the coast in Devon so this coastal wedding elopement shoot in the stunning location of Constantine Bay in North Cornwall was the perfect fit for us both.
Our bride and groom in this coastal wedding elopement shoot were real life couple Lib & Ollie who also have a strong connection to the Cornish coastline, Ollie even surfs in Constantine Bay! Lib wore a simple lace dress, whilst Ollie had dark blue-green check trousers and waistcoat for a relaxed contemporary look.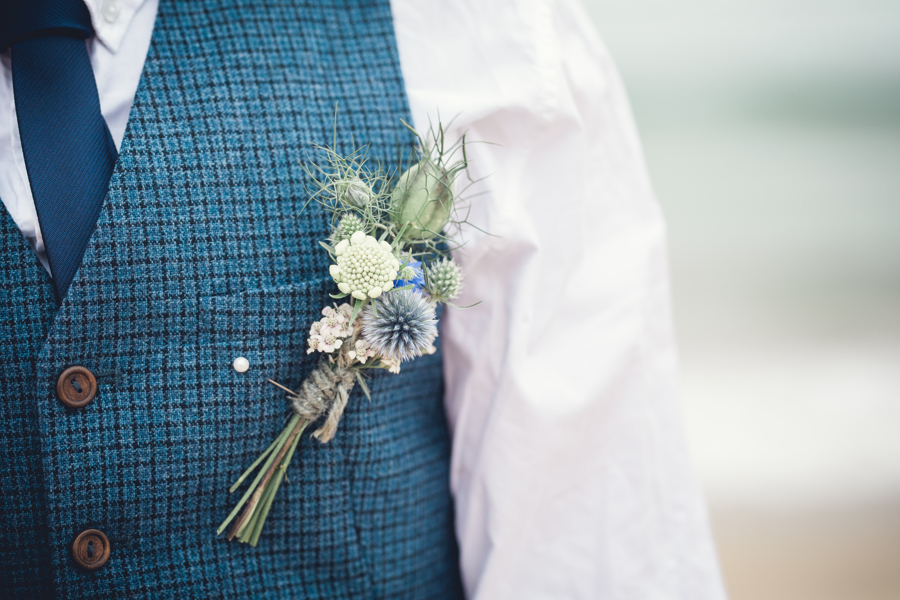 Drawing inspiration from the colours of the sea I used a mix of blues, whites and green-greys in the flowers and styling. The seasonal flowers were 100% Cornish grown, from my mums garden and a local grower a few miles down the road. Ingredients included blue hydrangea, nigella and cornflower and eryngium with white cosmos, achellia, scabious, ammi and phlox.
As well as a bouquet and buttonhole for our bride and groom, I created a little compote arrangement and added stems to little vintage bottles in blue-green glass, reminiscent of the pieces of sea glass you find washed on the shore. I styled a simple seating area with hand-dyed grey linen and cream blankets and cushions around a driftwood bench and rustic wooden crate table. Brass candlesticks with blue tapered candles and lanterns added to the nautical feel. 
Claire from Cake Daydreams supplied a beautiful mini cake, iced with sweeping blues to reflect the ocean and hints of gold leaf for a little sparkle like the sun glinting on the sea. I added just a few flowers, shells and sea glass and tied it with my hand-dyed silk ribbon.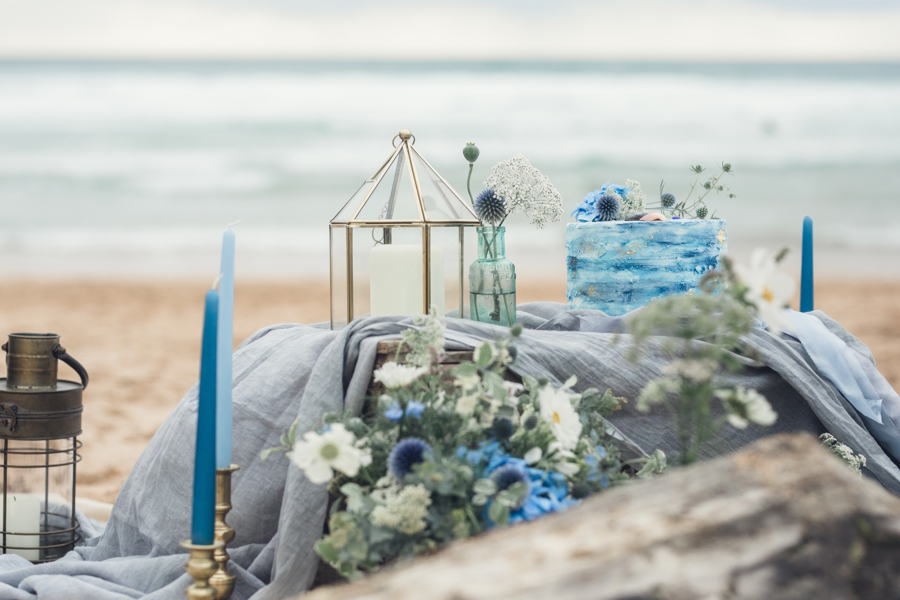 We had originally hoped to photograph this coastal wedding shoot in the warm golden hour glow of a summers evening; however in true British summertime fashion the weather was overcast and blustery, with some slightly threatening clouds approaching! In actual fact the weather couldn't have been more ideal in helping to create the wild and windswept coastal look so evocative of the North Cornwall coast. 
To me, the look and feel of this shoot sums up the Cornish coastline and captures it's wild romance. It's exactly up my floral street with seasonal flowers in my natural and relaxed signature style. If natural, seasonal flowers fit your perfect wedding style then have a browse through my blog featuring weddings and inspirational styled shoots.