I must admit that orange isn't really a colour I use much in my wedding flowers. It's not that I don't like it, it's just quite a dominant colour and many couples play it safer with a more muted palette of pastels. When I first met with Megan and Oliver I was super excited to hear they wanted to really go all out with orange and use it's vibrant tones for their Autumn wedding at Elmore Court.
In addition to the vibrant colour palette, they also wanted to go for wild, untamed and abundant florals so as you can imagine I was in my floral element, especially in the stunning setting of Elmore. Seasonal flowers were the order of the day for arrangements which were an explosion of colour and textures so I used lots of locally grown Dahlias , British Alstromeria, big bloom Chrysanths, Roses, papery Physalis, Euphorbia along with blue Eryngium thistles, Amaranthus and heaps of lush foliages.
I created two large, free-flowing urns to go either side of the imposing front door at Elmore to greet guests as they entered the main hall. Inside a huge, statement arrangement graced the table at the front of the hall between the statues, as well as a tumbling, trailing arrangement on the grand piano.
The icing on the floral cake for this Autumn wedding at Elmore Court was an aisle runner of ombre rose petals, fading from bright tangerine through salmon orange to paler apricot. I loved creating this runner and it really added a luxe and warm feeling to the ceremony hall.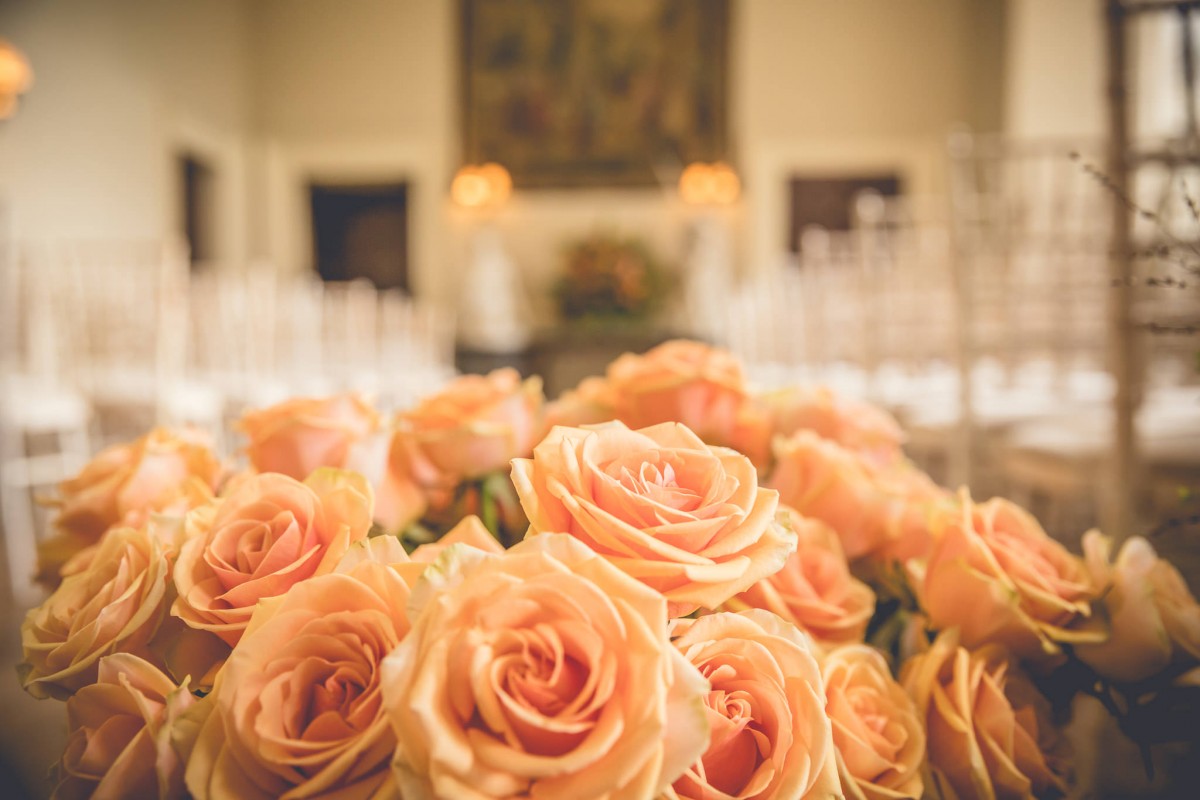 Below the tall table centres I added eye-level interest with little groupings of vintage bottles. These were filled with with mini pom-pom dahlia, fragrant orange freesia, sprigs of eucalyptus foliage and feathery fountain grass. Megan was keen on adding lots of candlelight so I also styled the tables with my mismatched, vintage brass candlesticks.