Blue – it's been my favourite colour for as long as I can remember. Bright blue skies, turquoise blue seas or sparkling blue sapphires I find I'm always drawn to the calming and fresh tones and hues.
When you're talking about flowers however, the colour blue can be a tricky one as there's not nearly so many blue flowers as there are say pinks or yellows. So when Natalie came to me with her ideas for a blue and white colours scheme for her and Simon's late spring yurt wedding I was keen to get creative with some stunning blue blooms, particularly as she was keen to include a amazing bright cobalt blue colour amongst the softer tones.
I used a mix of flowers to give a natural, country look but the main focus was a stunning cobalt blue hydrangea, which featured as Natalie's bridal bouquet with a few sprigs of eucalyptus. I also included blue delphiniums, blue thistles and a paler blue hydrangea to soften the contrast between the whites and dark blues. White flowers included stocks, phlox, gypsophila, waxflowers, larkspur, more hydrangeas and delphiniums along with tonnes of Queen Anne's Lace which I'd foraged from the fields surrounding the farm where my workshop is.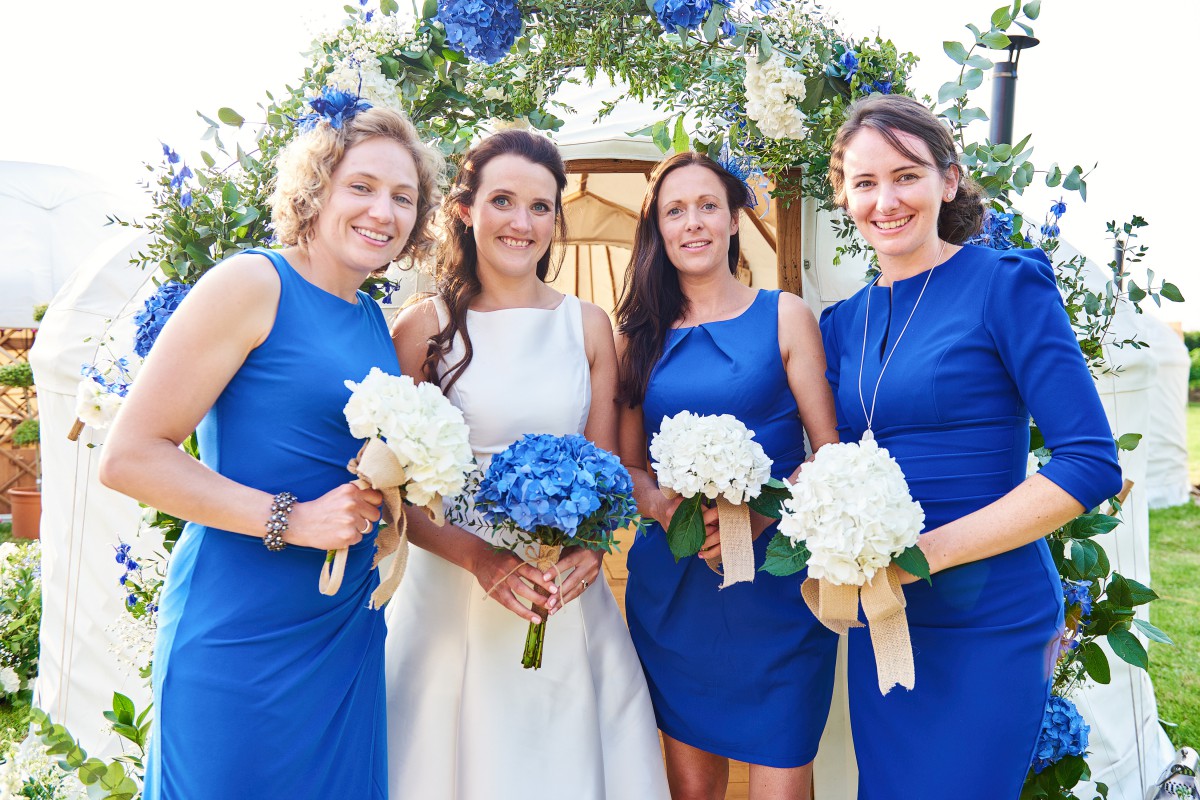 Simon and his groomsmen had rustic thistle buttonholes with waxflower, hypericum berries and pheasant feather bound in twine.
The couple held their ceremony at Enville Church and really went for the wow factor with the decoration! The entrance porch was filled with a meadow style arrangement on the seats and windows either side. As is often the case with photos mine don't quite do the scale of it justice as they were 12ft long either side so made quite an impression as people arrived!
Inside the church the couple had installed some real trees from the families plant nursery and I placed simple pew ends of white hydrangea heads with hessian ribbon. I also made a large pedestal arrangement for up by the alter and decorated the candlesticks with flowers and foliage. After the ceremony the long meadow arrangements were transported to the reception to decorate the yurt.
The reception was held in a paddock at the family's nursery in a stunning yurt from Wedding Yurts. Inside the yurt we had blue agapanthus flowers hanging from the central wheel and blue hydrangea on the bride and groom chairs.
Flowers from the church were also moved to decorate outside the yurt and on top of the yurt bar.
Outside I placed two large churn arrangements, filled with blue and white blooms and I also created an archway around the doorway to the yurt.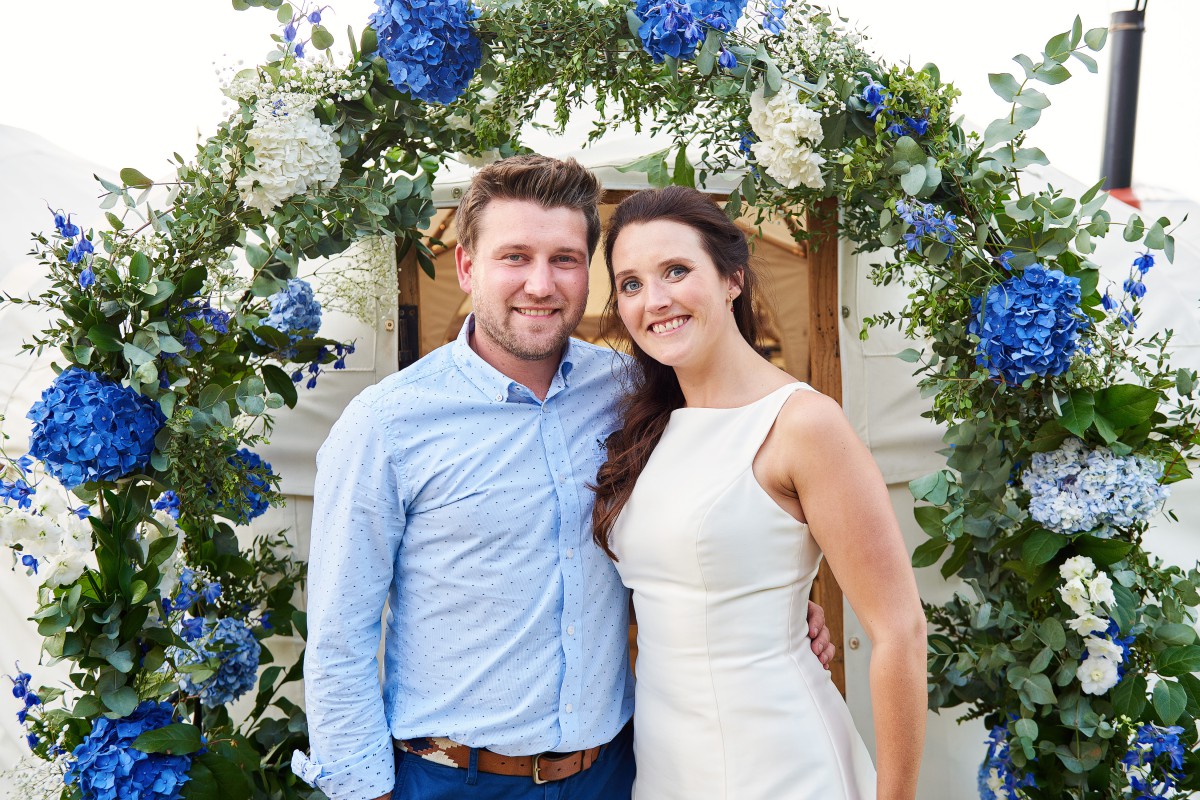 This was such a gorgeous wedding to work on, first of all I had a lovely church and stunning yurt to dress, secondly a brilliant couple who wanted lots of beautiful flowers and finally an unusual and striking colour scheme. Thanks to Natalie and Simon for having me play a small part in their yurt wedding day.
Credit also to photographer Ian Bursill who took some of the images above, you can find out more about his work at www.bursill.com
If you're considering a yurt wedding for your own celebration do be sure to check out Lizzie and Jim's page at www.weddingyurts.co.uk – their yurts are truly stunning and their attention to detail is second to none.