If someone asked you to describe Autumnal colours you'd probably first think of oranges, ambers, golds and browns but really there are no rules when it comes to choosing colours for your wedding so when I first met Tania and Jon to discuss their ideas for their Autumn wedding flowers at Elmore Court I was really excited to explore a colour scheme a little bit different from the usual autumn tones and include some bold bright colours.
Hot cerise pinks and zingy lime greens were the two key colours and I used some stunning cerise dahlias hydrangea and roses to really make the arrangements pop with colour. Bright green thalspi, sweet William and alchemilla mollis added to the bold mix of colour. I also included some deep burgundy tones to add richness, creamy-whites to lighten and blues from eryngium thistles.
Tania had a handtied bouquet in a rounded shape but with lots of shapes and textures from the different flowers and foliages to create a rustic, natural style. I also included pheasant feathers for autumnal interest. Her bridesmaids held smaller versions of the bridal bouquet, without the feathers.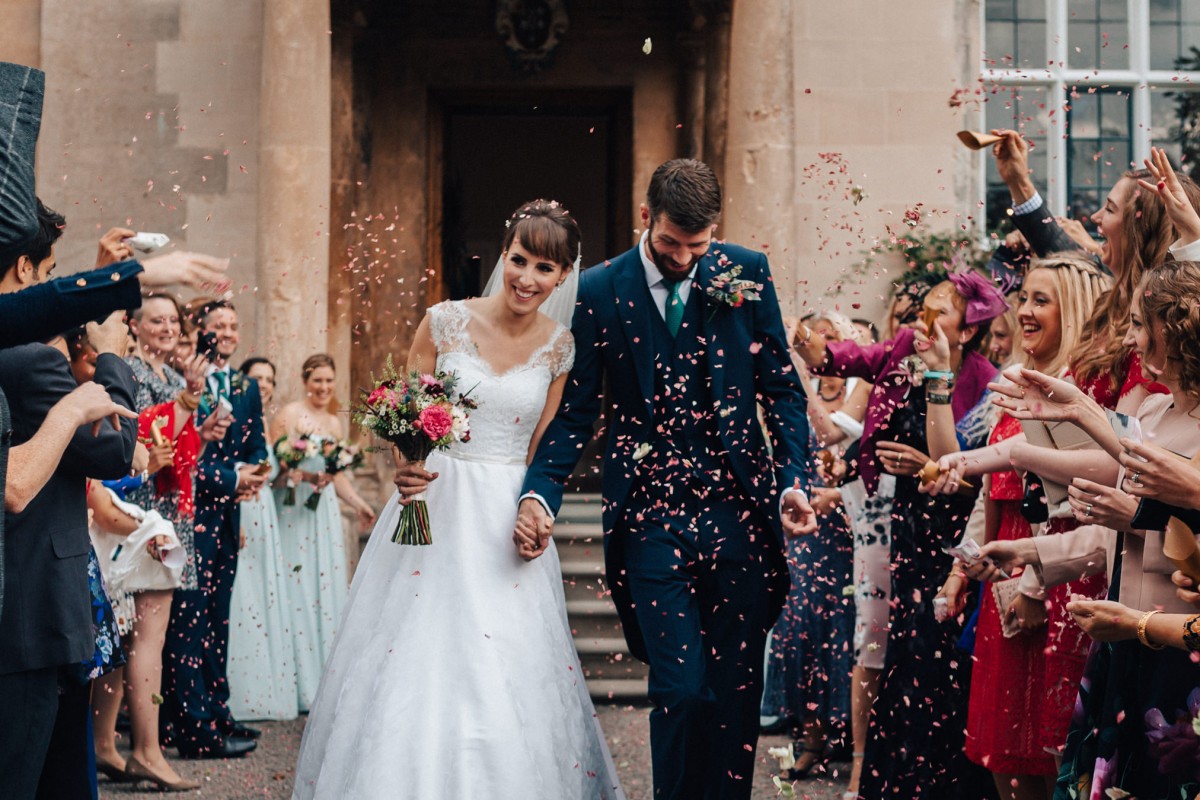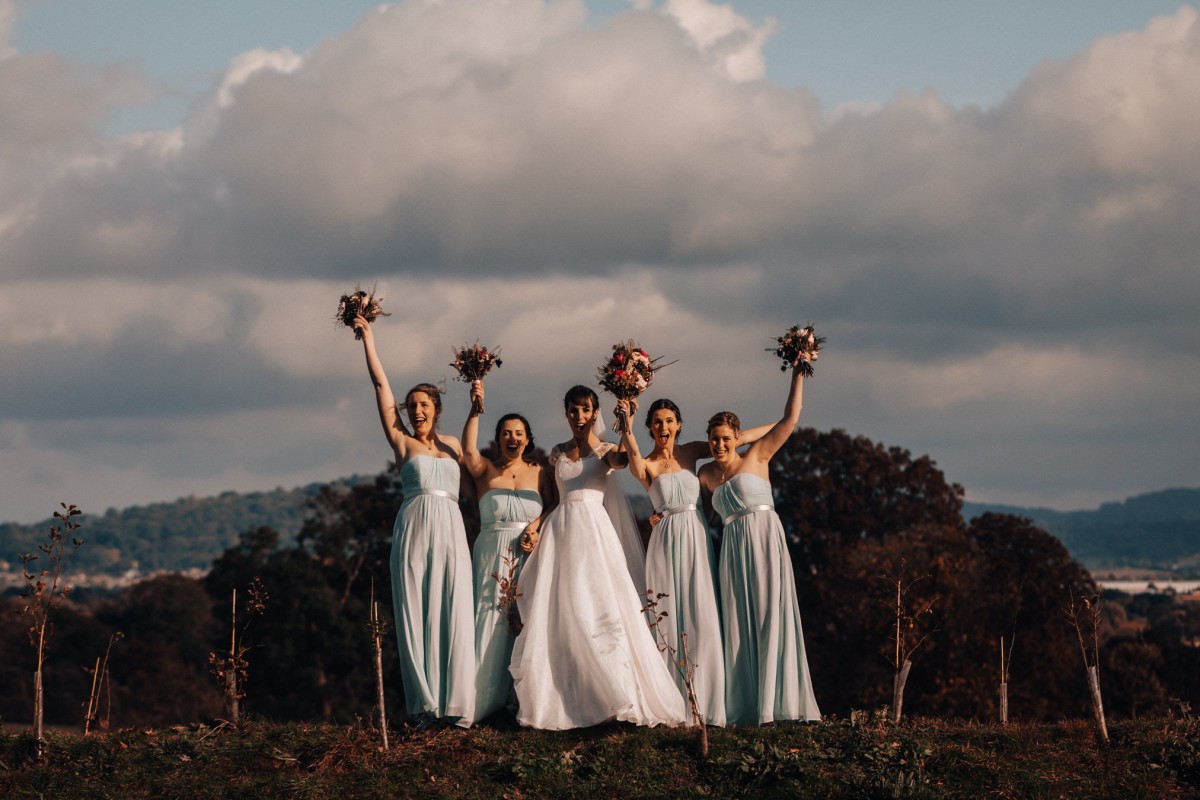 The gents buttonholes were also a rustic style with thistles and feathers, with Jon's having a bright cerise rose bud to make it that bit more special and tie in with the flowers in Tania's bouquet.
The ceremony took place in the stunning hall and I created a loose pedestal style arrangement full of flowers and feathers for the central table at the front and we also utilised two of the hurricane vase table arrangements to decorate the piano and the registrars table.
In the Gillyflower Tania and Jon went for traditional round tables but we mixed up the table centres by doing half with flowers in the top of  tall candelabras and half with low hurricane vase arrangements. This variation in height is a really great option to give height and impact to a reception room without it being over the top, and is especially effective in the Gillyflower where the amazing lighting installation gives wow factor.
I also created a spray of flowers and foliage to top the wooden door table plan which the couple had added frames for each table.
The final floral detail was a frame in the entrance to the Gillyflower near the guest book with a hanging moss wreath and foliage spray.
So something a bit different for an Autumn wedding, but one which I think really works – but as you know I do love a splash of colour! Thank you to Tania and Jon for letting me get creative with their fabulous brief, and to James Fear Photography for letting me share some of his beautiful images of their day. I'll leave you with Tania's lovely testimonial about the flowers, which as you might imagine totally made my day! xXx
"It's hard to put into words how much I adored all the various flower arrangements and bouquets. I might have mentioned it on the day, but when I turned up to Elmore Court on the morning of the wedding, I automatically assumed that the flower arrangement at the top of the aisle in the main hall had been left behind by the previous day's wedding. I was immediately jealous at how incredible their arrangement was and had my fingers tightly crossed that our flowers would be even half as amazing. As soon as the penny dropped and I realised they were our wedding flowers, I was over the moon! You captured the style and colour range Jon and I wanted absolutely perfectly, easily exceeding our already sky high expectations. The bouquets were breathtaking with the pheasant feather additions, and the help you gave me to attach my grandmother's locket to my bouquet was the icing on the cake. When we were later taken over to the Gillyflower during the drinks reception, we were bowled over by the vibrant and striking candelabra table centres. One month on and reminiscing about the wedding, Jon and I agree that the flowers are a huge part of our memory of the day. So all that's left to say is a humongous thank you for the incredible amount of work, effort and passion you put into making the flowers absolutely perfect."