Looking out of my window today, it's a perfect winter wonderland….the Malvern Hills have been dusted with snow and the sun is shining in the blue sky. I really should make the most of it and get outside but first I have to share this stunning winter wedding from last year at Elmore Court – a beautiful and unique wedding venue situated just to the South of Gloucester. The house itself dates to around 1580 and upon first glance appears to be a classic stately home, but in addition to the wonderful grandeur of the reception rooms the family at Elmore have also added The Gillyflower; a beautiful space sustainably built from earth and timber from the estate. It's possibly one of my favourite spaces I've seen as a reception venue, perfectly designed for a wedding and I really covet the amazing Lightshower, design by lighting artist Bruce Monroe. (To see more of the Gillyflower click here) Anyway, onto today's wedding…..
There was no snow but after a thick misty morning the day  dawned into a perfect sunny day for Amy and Max to tie the knot at the end of November and I was lucky enough to be a part of their day creating floral designs. The bouquets and arrangements were natural and rustic, using seasonal flowers, lots of greenery, pine cones and some feathers in ivory-whites, greens, blues and silvers for a classic wintery feel.
Amy's bouquet was a hand-tied posy style with ivory flowers including anemones, ranunculus, freesias, tulips and bouvardia with silver brunia and silver sprayed mini pine cones for texture.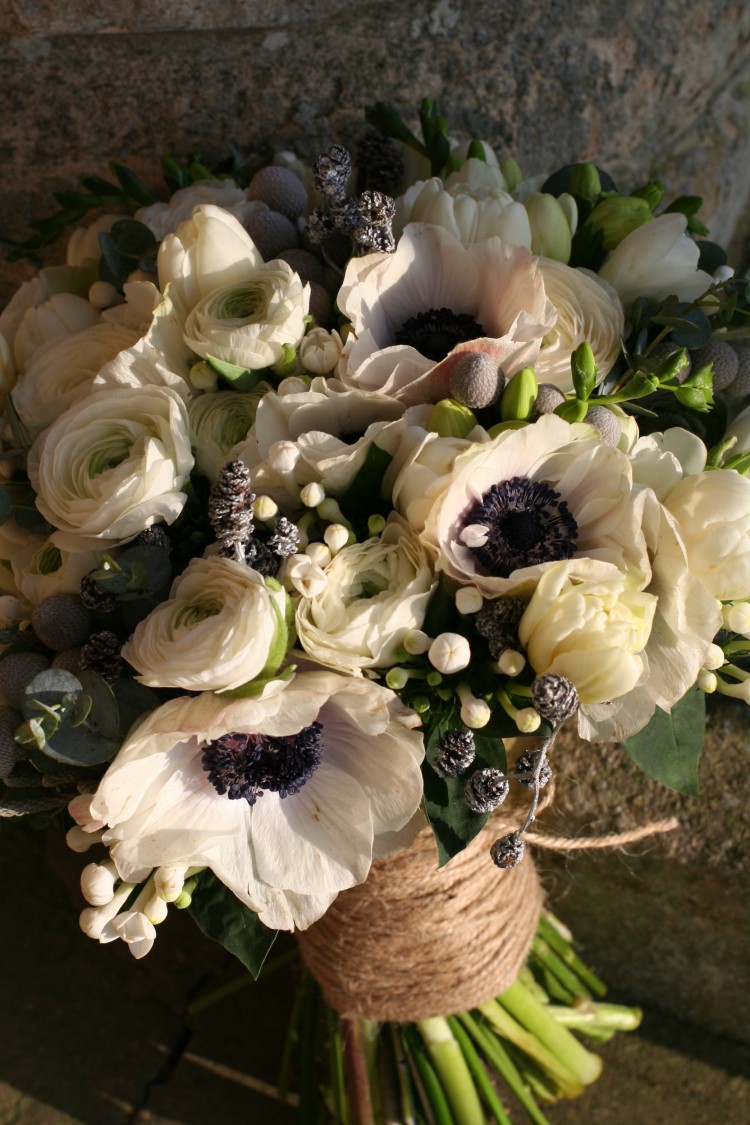 The bridesmaids had a similar bouquet but with the addition of cobalt blue anemones and blue eryngium thistles to reflect the colour of their dresses.
The sweet little flower girl had a cute wand which I had handmade with jute twine, waxflowers and miniature cones
The boys buttonholes were kept natural and rustic – a ivory spray rose with an eryngium thistle, a seedhead and a grey-blue feather, tied off with jute twine.
Outside the entrance to the main house were two large arrangements in vintage milk churns, again these were very natural, lots of foliage and textures with a few flowers – my particular favourite was the bauble-like allium seedheads which I sprayed white and silver to bring them out of the design.
The reception in The Gillyflower was designed around three long tables and a long top table which was framed with a garland of twigs. Each table was decorated with three candelabras which I wound with trails of ivy and a garland of ivy and asparagus fern down the centre. In between were lanterns and votives provided by Amy's stylist on my wooden log slices and floral arrangements in rustic galvanised buckets. Oh and lots of pine cones, which were also used as place settings.
Finally one of my favourite features of The Gillyflower – The Lightshower!
So I hope you're feeling suitably wintery and inspired if your own wedding is set for winter or is booked for Elmore Court! (I just noted on Elmore's twitter page that they're fully booked for 2015 weddings….so don't delay if you're thinking about booking them for 2016!)
To find out more visit their website at www.elmorecourt.com
For more ideas and inspiration for your wedding flowers check out my other blog posts here.
All images Copyright of Jenny Fleur Event Florist – please do not use or copy without permission 🙂