It's a lovely sunny day outside and I've a bright cheerful selection of wedding flowers to share with you from Claire and Tom's country cottage garden wedding held at their parents charming cottage in the teeny village of Chaceley, Gloucestershire. As well as being a beautiful setting (marquee, cottage garden, pretty pond) I have a particular affinity with Chaceley as I used to rent a cute little cottage there some years ago and it's one of those place which feels like home to me!
Anyway, onto the flowers!! Claire chose a selection of pretty pastel shades of pink, coral, lemon and cream to go with the bridesmaids dresses and combined it with some bright, bold reds reflecting the boys' ties and a family colour. With a great abundance of late-Spring, early-Summer flowers to choose I used fragrant garden roses from The Real Flower Company, peonies, astrantia, achillea, stocks, wax flowers and grasses and ferns for a slightly wild, just-picked cottage garden look.
The brides bouquet was big, bright and bursting with blooms, hand tied and wrapped in lace, whilst the bridesmaids had slightly smaller versions.
The groom and his groomsmen had red rose buttonholes made with velvety Grand Prix roses, spray roses, waxflower and asparagus fern. The ladies in the bridal party had corsages in pinks, creams and lemon yellows.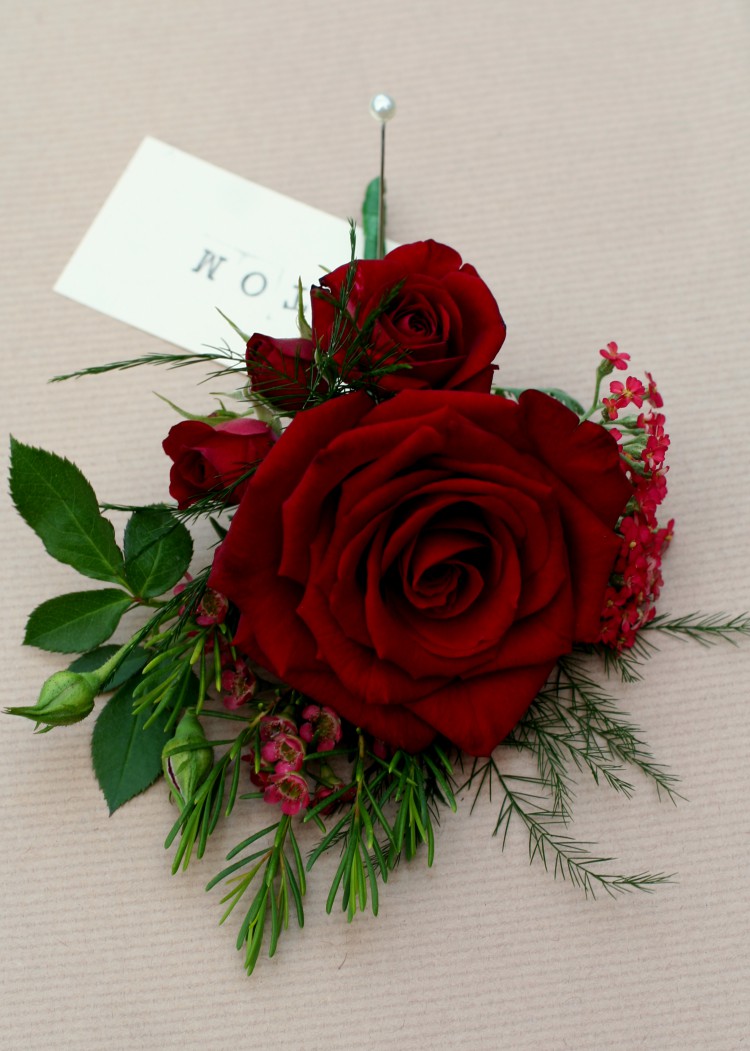 The ceremony was at Chaceley Church, literally 50 yeards away from the marquee and I decorated it simply with a large pedestal arrangement.
The pathway to the marquee wound down through the cottage garden and I placed watering cans of flowers along the way, with a large vintage milk churn arrangement at the entrance.
The long trestle tables were decorated with flowers in Claire's collection of vintage tea pots.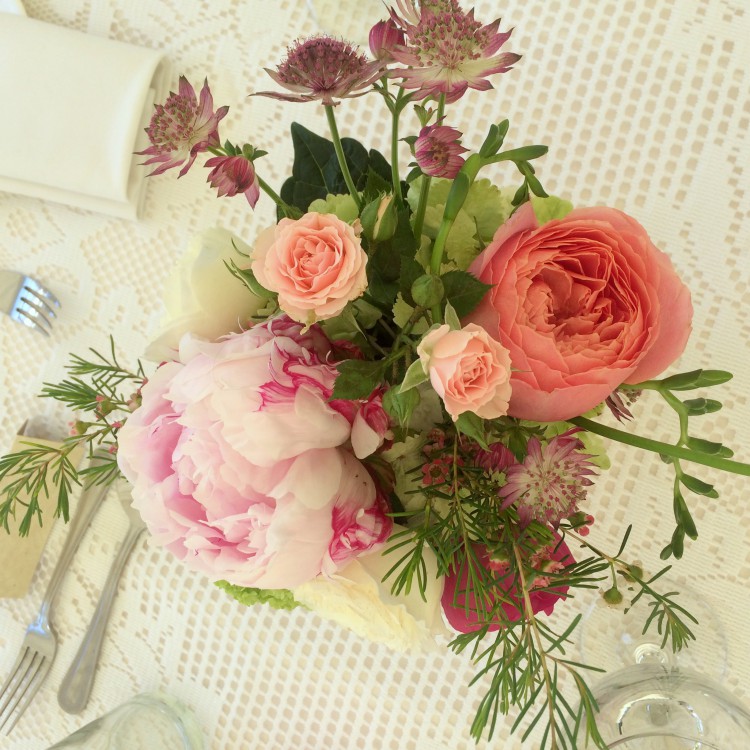 I do love using bright colours in wedding flowers and they don't have to be overpowering if combined with pretty pastels, I hope these images encourage you to be bold in your colour choices! Will leave you with one more of the bright bouquets. Check back soon for more flowery pictures from recent weddings….
All images copyright of Jenny Fleur, please do not use or reproduce without permission 🙂